Ammeter 0-50 A in alternating current, for transpanel mounting, 48x48mm. It allows you to visualize the value of a current very quickly and visually.
For use with 50/5A intensity transformer.

Ref: 0-50A X/5A 48X48

AC ammeter, with a measuring range of 0 to 50 A, the ammeter is prepared for transpanel mounting, 48x48mm measurement.
Manufactured in ABS box, very easy to install. They have an overload factor of 200%, which is very suitable for circuits with current overloads, for example, electric motors, this allows to raise the duration and prevent deterioration of the measuring instrument.
It has zero adjustment by regulator located on the front of the measuring instrument. The measurement scale is engraved in black on aluminum plate painted in white.
Features:
Manufacturer/Supplier: Denor
Ref: 0-50A X/5A 48X48
Measurement type: AC current current.
Measuring range: 0-50 A.
Connection type: Using intensity transformer.
Working fequence: 50-60 Hz.
Transformer ratio: 50/5 A.
Instrument type: Moving iron.
Class (accuracy): 1.5.
Working temperature: -20oC... +40oC.
Storage temperature: -35oC... +70oC.
Overload factor: 200%.
Degree of protection: IP40.
Regulations: EC - IEC60051, ICE 61010
The meter must be connected by a 50/5A ratio intensity transformer. (Not included in the supply).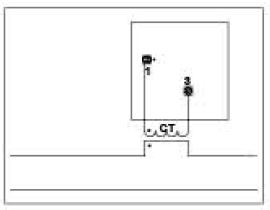 Mounting: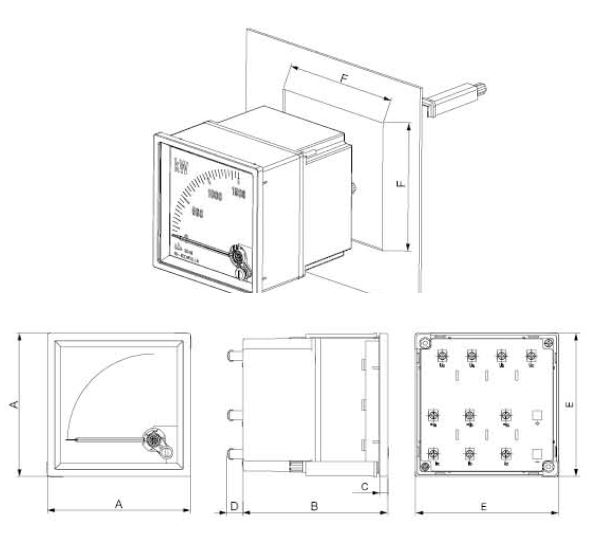 A: 48 mm
B: 94.7 mm
C: 5.5 mm
D: 11 mm
E: 66.2 mm
F: 68 mm
Type of measuring instrument

Measuring instrument format

Measurement mode