Unipolar flexible cable roll 0.75 mm red 100m
Roll of 100m flexible cable of 0.75mm2 section, red color, specially designed for internal wiring of electrical cabinets, switch boxes and electrical appliances. Designed under CPR (EN 50575).
Series: TopFlex V-K
Color: Red.
Section: 0.75mm2.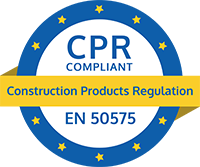 0.75mm2 section unipolar flexible cable, red PVC insulation. Manufactured by Top Cable. This cable has been specially designed for installations where a flexible cable is required for signaling and control.
Supplied in carton packaging, in 100m rolls.
Technical details:
Manufacturer: Top Cable.
Series: TopFlex V-K.

Conductor: electrolitic copper class 5 (flexible) according to UNE-UN 60228.

Insulation: Extra sliding flexible PVC.

Nominal section: 0.75mm2.

Color: Red (RAL 3000).

Rated voltage: 300/500V.

Voltage drop (V/A x km): 62.4.

Thermal Features:

Temp. driver's maximum: 70oC.

Temp. maximum short-circuit: 160oC (maximum 5 seconds).

Features against fire:

Non-flame propagator according to UNE-EN 60332-1 and IEC 60332-1.

CPR Fire Ratio: E according to EN 50575.

Outside diameter: 2.5mm.

Curvature radius: 5 x outer diameter.

Resistant to acceptable chemical attacks.

Presence of water: AD3 spray.

Installation conditions: tubing.

Design: According to CPR standard (EN 50575).

Reference standard: UNE-EN 50525-2-31 / IEC 60227-3

ITC and certifications: ITC: 9/20/26/27/29/30/31/34 CE SEC HAR AENOR RoHS Certificates.

Applications:

Wiring in electrical cuados.

Packaging: Cardboard box with 100m roll.

Weight: 1.1 kg.